Hello!  We are Eva, Darren and Andrew, life-long friends and co-founders of Aejou.
Aejou started as an idea between friends – Darren, a vegetable farmer, Andrew, a metal manufacturer and his wife Eva, a banker and mother of two young children born in the midst of COVID-19.  This unlikely partnership began at the height of the COVID-19 pandemic, during the Circuit Breaker period in Singapore.  
With restaurants being ordered to shut and all construction at a standstill, Darren and Andrew faced an unprecedented drop in business.  At the same time, the lack of food security in resource-scarce Singapore and the very real problem of chemicals and pesticides in food production made Eva anxious about her babies' well-being.
Darren, Eva and Andrew wanted to find a solution for a vegetable growing system that was effective, efficient, simple to use and even simpler to set up.  Putting together their combined knowledge of urban farming and experience in engineering and metal manufacturing, coupled with the desire for their families to consume only the safest, freshest and tastiest greens, the Aejou GrowFridge™ was born.
Every home a farm, every citizen a farmer.
We believe in the concept of making every home a farm, and every citizen a farmer.  Our goal is to empower people to grow their desired crops anywhere.  With consumers becoming more conscious about where their food comes from and how it is produced, we want to give people the ability to be in direct control of their food source.  From deciding what type of vegetables you want to grow and consume, to the peace of mind with knowing exactly what goes into your vegetables.  It is also healthier, tastier and more gratifying to eat the food you grow yourself.
We want to bring families and communities together by transforming urban farming to a desirable part of a healthier, more sustainable collective lifestyle.
Conceptualised

Engineered

Designed

Manufactured

Grown

Harvested
For Singaporeans, by Singaporeans.
The COVID-19 pandemic saw the world, and Singapore in particular, experiencing first-hand the very serious threat of the lack of food security.  From supply-chain disruptions, to lockdown fears resulting in food hoarding, to labour and raw material shortages – we were all caught off-guard.
100% conceptualised, engineered, designed, manufactured, grown and harvested in Singapore, we believe that our GrowFridges provide an elegant solution to this issue of food security.
We are very proud of our roots.  Join us in protecting our food security.  Join us in securing our future.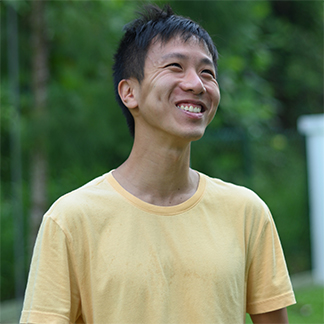 Darren has been in vegetable farming for the past 10 years and manages his own nursery in Singapore that grows and supplies to hotels and restaurants. He has successfully built, managed and operated farms both locally and regionally.
Taking the knowledge he gained from his experiences, he believes that Singapore can and will be food sufficient if everyone plays their part. "With the technology available today, it is about finding the right balance and the sweet spot to create a cutting edge product which customers will truly enjoy using without having to break the bank.  Using the concept of smallholder farming, we've created something that almost everyone in Singapore can use," he says.
In the future, he envisions the GrowFridge being incorporated into the layouts of homes built by the HDB or other property developers so that every home will have its own farm.
Andrew is the co-founder of Aējou, Singapore's first plug-and-play smart micro farm that is 100% conceptualised, engineered, designed, manufactured, grown and harvested in Singapore.
At the tender age of 15, Andrew was diagnosed with cancer.  After undergoing 6 months of intensive chemotherapy, he conquered the disease.  It was during this ordeal that Andrew's family  decided to switch over to a healthier, greener diet.  Fresh, home-made, nutrient and antioxidant-packed vegetable juice became a twice-daily routine.  Being able to gain an awareness at such a young age of the many health benefits of consuming fresh vegetables while also learning that large amounts of chemicals and pesticides are used in the growing of these vegetables helped Andrew realize the need for great transparency and accountability in our farming practices. 
After graduating from the National University of Singapore with a degree in Chemical Engineering, he spent a short stint in Oil & Gas before joining the family business in sheet metal fabrication and construction.  It was here where he saw the endless possibilities that manufacturing could offer.  It has always been his firm belief that manufacturing holds the key to the future economy.  When the opportunity arose to delve into the agri-food scene, Andrew immediately jumped on it.
Andrew dreams of a future where families grow their own food at home, so that people are in control of their food security and have access to fresh, tasty, nutritious greens at all times.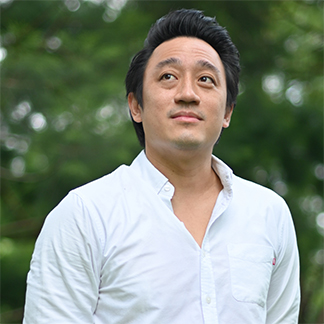 Eva is the co-founder of Aējou, Singapore's first plug-and-play smart micro farm that empowers individuals, families, corporates and communities to confidently grow their greens hyperlocally and on-demand so that fresher, cleaner, tastier and more nutritious greens can be enjoyed all-year-round.
Evangeline is a banker and mother to two young daughters. She graduated with a degree in Health Sciences from the US, where she was first introduced to the whole foods movement and the world of freshly harvested organic produce. Combined with her love for exercising, she is a firm believer of eating and moving well. Evangeline is an avid fitness enthusiast who lifts weights 3-4 times a week.
After becoming a mother, she became even more conscious about what goes into our food and where it comes from. Evangeline wanted to ensure her children were eating only the most nutritious produce, and more importantly, food that was free from chemicals and pesticides. Her desire is for her children to grow up in a world where healthy, quality, organic produce is affordable and widely available.